Music to Movement: Music Therapy Device for Stroke Rehabilitation
May Liang, Clinton Large, Harley Johnson, Jose Martinez Castro, Joshua Jessop
Our Mission
Over 800,000 people in North America suffer from a stroke every year. Oftentimes, stroke victims lose the ability to control their own muscles, making basic movements difficult. By tackling this real world problem, the Music to Movement (M2M) team aims to develop an assistive music therapy device to create a fun and engaging experience towards patient recovery. Musical therapy not only aids a user's physical rehabilitation, but also improves emotional healing by gamifying the exercises to provide motivation to the user.
By its very nature, biomedical engineering is a discipline that requires many people of different expertise to come together in the pursuit of a common goal. UBC BEST's M2M team is a group of aspiring engineers and physicists that are committed to success in the pursuit of our common goals as we work towards developing an interactive, multi-component rehab device that can interface with a music program to address the problem brought to our attention by musical therapists and rehabilitation specialists in Vancouver.
Alternate Solutions
During the initial stages of developing M2M, our team researched various designs for incorporating music therapy into physical rehabilitation and investigated a variety of target audiences that we believe would benefit from such technology. The potential audiences considered who would benefit from a musical therapy device could include: Patients with Down syndrome, Patients that have suffered through a stroke, Patients with Autism, Patients with Parkinson's, and Elderly audiences.
After thorough investigation of user needs and how these needs would translate into our project design, we decided to select one type of audience to become the focus group for our prototype. This would allow us to create a device specifically targeted at that audience and directly address their needs as opposed to the attempt of catering to a larger audience, but ultimately becoming less effective in fully meeting the needs of the larger audience.
The following alternative solutions were considered and were evaluated alongside our current M2M design to undergo further development:
Full Body Theremin: A Theremin is an electronic musical instrument that is controlled without physical contact. We proposed for the development of a Theremin which uses all parts of the body's extremities to create music. One side of the body would potentially control volume, while the other controls pitch. This would help patients develop motor proficiency, visual-integrative abilities, and sensory function.
Telescoping Arm: We proposed to create a telescoping mechanical arm which would house several pads that gives light and audio feedback when interacted with. The purpose of the telescoping arm is to provide a stable mechanical base that is height and orientation adjustable which allows for reach in different planes for physical rehabilitation.
Digitizers on Tracks: We proposed to create a M2M device composed of metal tracks which give fixed orientation to digitizer music pads that allow translation in horizontal and vertical directions. The digitizers can work individually, sending light and audio feedback when interacted with and can be removed from the tracks if necessary. This is similar to the solution described above, but controls the range of motions in the pads or digitizers. This would be a compact model that is expected to fit in a medium sized suitcase for easy transport.
During our evaluation period, we discussed the above solutions, along with the solution that would become our final design with music therapists in and around Vancouver. Our final approach and design was chosen to move forward into development because it allowed for the most unconstrained design. The current design allows music therapists and physiotherapists to use the device to create any configuration possible, expanding the library of motions that can be used for physical rehabilitation and can be used with multiple patients for collaborative rehabilitation.
Music to Movement: Final Approach and Design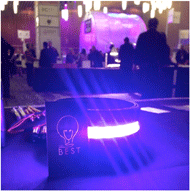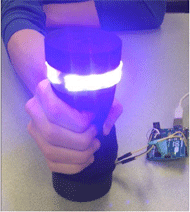 The Music to Movement device is an electronic musical instrument that can help increase patient movement and muscular control through the use of rhythmical music, targeting key motions used in physical rehabilitation. The M2M device has the ability to monitor a user's progress quantitatively over multiple sessions in the duration of their rehabilitation. Listening to music has also been linked to improve cognition, including attention span, memory, organization, and the ability to solve problems, as well as furthering speech and communication recovery when users are encouraged to sing along. Positive feedback is another important quality for our music therapy device. The idea behind using light and music as feedback stems from knowledge through discussions with music and physical therapists that rehabilitation exercises tend to be repetitive and unentertaining, which may demotivate patients during the process of their recovery. Being able to work towards recovery, both mentally and physically through the use of a positive feedback device, will empower users by allowing them to see their own quantitative progress, which will intrigue and motivate the user to reach for a goal beyond their current capability.
To target key motor movements, several peripheral components were designed to be connected to a main console and speaker system of the Music to Movement device, which is currently in development. The central hub allows the peripheral components to connect to it, and is used to send light and musical feedback when users interact with the peripheral devices. The hub itself features an LCD screen and can be used standalone to develop fine motor movements by tracing light patterns using the finger, by tapping and sliding to produce light and sound, or by having an external facilitator select a song, as the main user follows the play-along light up prompts. The other components of the M2M device are peripheral devices which connect to the hub through a wired connection or Bluetooth connectivity and are used to increase the range of motions in the user's exercises or to allow different motions. M2M focuses on "squeeze", "tap", and "spin", which were determined to be the key exercises to the recovery of arm and grip strength and recovery range of motions in the arms and joints in physical rehabilitation.
Table 1. Component breakdown for next iteration of M2M device

| | | | | |
| --- | --- | --- | --- | --- |
| Item | Amount | Unit Cost | Unit | Total Cost (CAD) |
| STM32F407 | 1 | 14.00 | Per item | $14.00 |
| Resistive Touch Screen Overlay | 1 | 14.95 | Per item | $14.95 |
| Resistive Touch Screen Controller | 1 | 9.95 | Per item | $9.95 |
| ABS 3D Printing Filament | 1 | 40.00 | Per roll | $40.00 |
| AdaFruit Neopixel LED Strip | 2 | 24.95 | Per roll | $49.9 |
| 4 Pin RGB LED | 1 | 1.50 | Per item | $1.50 |
| Hall-Effect Sensor | 1 | 3 | Per item | $3.00 |
| Tensile Spring | 1 | 2 | Per item | $2.00 |
| Magnet x 1 | 4 | 2.75 | Pack of 20 | $0.69 |
| Velostat | 1 | 6.5 | Per roll | $6.50 |
| Stainless Steel Conductive Thread | 1 | 10 | Per 30ft | $10.00 |
| Speaker | 1 | 31.74 | Per item | $31.74 |
| PCB Boards | 2 | 2 | Per sq in | $24.00 |
| Assorted Electrical Components/Wires | - | 10 | - | $10.00 |
The "Tap" device focuses on the accuracy of the user's hand placement and force. It currently uses a Piezo-electric sensor to detect a user's tap motion on the device as well as a measurement of the force, and gives vibrational feedback and an LED light pulse proportionate to the amount of force exerted. The "Squeeze" device focuses on aiding the development of a hand strength, which is needed to regain the ability of picking up objects. The "Squeeze" device is currently made of a foam cylinder surrounded by four flex sensors placed vertically around. These sensors measure the physical change of the squeeze component and sends a signal to produce light, giving visual feedback to the user that the squeeze threshold was reached along with vibrational feedback. The threshold for each of these devices are expected to increase in difficulty over time, which can be set by an external facilitator through a computer, as the user feels more comfortable with the device and makes progress in rehabilitation. The "Spin" peripheral focuses on developing the twisting motion of a hand, similar to the motion of twisting door knobs. This component consists of a base and a rotating plate. When the user rotates the plate, the light strip between the two components of the spin device lights up with a colour corresponding to spin distance. An imbedded magnetic flux sensor detects the change in magnetic fields from incorporated magnets during the spin. The exercise will also feature variable resistance that can be set by an external facilitator depending on how easy or difficult the spin motion is for the user over time. The user will have to meet a certain threshold, allowing goals to be set for continued progress of the patient.
Outcome of Testing and User Feedback
The M2M device is currently on its second iteration, after feedback of the initial prototype described above was collected from a practicing musical therapist and stroke survivor. The focus of the second iteration is to increase the sensitivity of the device. This would allow users and facilitators to gauge progress, and for users to continually push themselves towards improvement of their physical condition.
Another upgrade that was suggested upon our previous prototype is to increase portability and visual appeal for a more engaging device. Based on user feedback, a new iteration of the squeeze prototype is currently being designed to be a small "egg shaped" object that can fit in the palm of a user's hand. Specialists emphasized an important feature is to have multiple spatial configurations that can exist so users can work to their fullest capacity and have a large range of difficulties to fully develop improved motor movements. We strive to achieve this through design of our peripheral casings so that it can be held, mounted on tables, walls, or any surface so that M2M can be used in any location.
The third goal for the next iteration of M2M is to fully integrate all the peripheral devices to the central hub. This includes wiring and coding the peripheral devices to work with the hub's main microcontroller. This would allow the central hub to power, send signals, play music, and have peripherals work together for rehabilitation rather than used separately. A specialist could then access programs through the central hub to monitor patient progress and select songs and modes for the device. This allows for a more user-friendly system that also promotes collaborative rehabilitation as users are able to use the M2M together to make music and develop motor function.
Production Costs and Expected Pricing
The expected production costs for the next iteration of the M2M device is tabulated below.
Expected cost to produce: $218.23 CAD
The production budget displayed above is expected to decrease over time after finalizing design and prioritization towards minimizing cost for the M2M device becomes a critical aspect. For example, costs can be cut by further researching more cost effective LED strips and speakers to reduce two of our highest costing components. Production cost is also expected to decrease as rapid prototyping costs are replaced by future designs for manufacturing. We believe in the absolute necessity of reducing production costs, while maintaining quality to reduce overall pricing of assistive therapy devices, which will allow technology to be more accessible to potential users.
To determine expected pricing of our device, we researched and compared the pricing of electronic instruments, which could be used for music therapy and thus was determined to be in the same market as the M2M device. These pricings range from $40-$1000, with the last product being one music therapists have identified as a tool that they or their colleagues use in their practice.
Table 1. Several electronics drums that were compared currently on the market

| Item | Cost | Specs | Picture |
| --- | --- | --- | --- |
| First Act Electronic Digital Drum Pad – FD213 | 40 | Product Dimensions: 12.5 x 3.2 x 22 inches | |
| KAT Percussion Electronic Drum and Percussion Pad Sound Module | 200 | Product Dimensions: 15.5 x 13 x 17.8 inches; 4.1 pounds | |
| Medeli DD305 Electronic Drum Pad | 330 | Product Dimensions: 17 x 25 x 15 inches | |
| Yamaha DTP520P Electronic Drum Pad Set | 440 | Product Dimensions: 20.9 x 18 x 12.3 inches | |
| Noland Handsonic | $1000 | Product Dimensions: 10 inches, 13 sections; 2.4 kg | |
We believe that M2M's expected cost falls in the range of $600-$1000. In comparison, M2M will be able to offer a larger range of motions for developing arm function and its features and capabilities are designed specifically to optimize rehabilitation as opposed to the products compared above. M2M is however, expected to have lower sound quality than the professional musical instruments listed above, but will be designed for good sound quality that allows the device to be fully functional and enjoyable for its users and music therapist.
Significance
The needs being addressed by the M2M device are the physical limitations individuals who suffer from stroke-induced partial paralysis. The need for a rehabilitation process that allows an individual to return to an average lifestyle more quickly is something that is desperately needed, as it dramatically affects the lives of both the patients and their families. A device that actively engages the patient and introduces light-hearted fun into a rather difficult situation can have immeasurable effects on the patient's attitude and mental health throughout the duration of their rehabilitation.
Our project is unique in that we are placing a greater focus on the importance of music in helping patients regain control of their fine motor skills, more so then most have previously done. Recent research into the merits of music therapy has not yet become integrated into the devices that are presently available on the market. We aim to make the rehabilitative process more interactive and more enjoyable for patients, while simultaneously receiving the benefits that music has to offer on the rebuilding of sensory integration and cognitive functioning.
Upon its completion, we anticipate our device will be a welcomed asset to medical professionals working in the field of rehabilitative therapy. Our device will be an affordable alternative to the technologies that currently exist, with the added benefit of combining traditional physical and musical therapeutic strategies with an interactive, self-guided component. The device allows for the user to gradually develop their skills by increasing the difficulty or complexity of the tasks involved over time. Additionally, the simplicity of our design will allow for therapy sessions to take place in the absence of a nurse or rehabilitative practitioner, and can be run off any computer via a USB connection. With M2M, patients can continue with their therapy at home or in a clinic, as a way to compliment the treatment they would normally receive at scheduled therapy sessions.
Conclusion
The M2M device is a multi-component music therapy device aiming to target specific motor movements for therapy and is currently on its second iteration to better help patient needs. By having this device, the progression of the patient is more evident and is precisely recorded for the therapist to review. The audio and visual feedback provides immediate responses to the patient, giving them a goal that is obvious and easy to reach, but also challenges the user to reach beyond their threshold. By having a medical device in music therapy sessions, this will create a precise measurement and threshold for the patient's development through their sessions. The therapist can then focus more heavily on the patient's needs and changes, since the device will monitor the motor movement for them. This lets the device do the technical work so the therapist is able to use their limited time and resources for more personalized patient needs. By having a complete M2M create the physical rehabilitation session for a multitude of motor movements, there is a reduced need for multiple devices, making it easier for storage and purchase for small business music therapists. This is fundamentally different from how music therapy is done today, and will create a mutually beneficial bridge between the music therapy and biomedical engineering industries. All in all, the goal of this device is to integrate it into the work being done by both physical and musical therapists in hopes that they may further their work in effective paralysis rehabilitation and change the lives of so many around the globe.
Acknowledgements and References
The UBC Biomedical Engineering Student Team, including the Music to Movement Project, would like to acknowledge the University of British Columbia and the Faculty of Applied Science for its continued support of UBC BEST, both financially and for providing technical resources and workspace. Specifically, UBC BEST would like to thank Dr. Peter Cripton and Dr. Leo Stocco of the Mechanical Engineering and Electrical Engineering Departments respectively, for their dedicated roles as faculty advisors to the team over the past three years.
UBC BEST would like to thank our generous donors, Paul Geyer, Dr. James McEwen and the SpencerCreo Foundation for providing financial support to the team. In addition, BEST acknowledges and appreciates Mr. Geyer and Dr. McEwen, for their continued support and roles as industry advisors to the team.
For the Music to Movement Project, UBC BEST would specifically like to acknowledge Catherine Habler and Mark Stockbrocks for their support, feedback, and knowledgeable insights in music therapy and rehabilitation, which have helped drive the M2M project forward.