ABSTRACT
The goal of this project was to enable Todd Galli with the opportunity to independently sail a Martin 16 boat. Todd's limited movement due to Muscular Dystrophy required the use of an alternate approach than was currently available for operating these boats. Use of Todd's input along with a multidisciplinary engineering team resulted in a customized fiber-optic interface that enabled Todd to sail independently. Because I personally know the therapeutic value of adapted sailing (and sailing in general), this project was of even greater importance to me.
BACKGROUND
Todd Galli uses a power wheelchair, a ventilator, and requires 24-hour nursing care. He was diagnosed at age three with Muscular Dystrophy (1) when he developed a contraction in his calf. Muscular Dystrophy (MD) is a genetic disorder, characterized by progressive muscle wasting and weakness that begins with microscopic changes in the muscle tissue. As the muscles degenerate over time, so does the person's strength.
Todd was fitted with a manual wheelchair at age nine. Due to the progressive nature of MD, he began using a power wheelchair by the age of twelve. He was hospitalized in 1996 with an acute case of pneumonia that left him reliant on a ventilator. These restrictions drastically impact his recreational opportunities. Now 26 years old, Todd remains highly motivated despite the physical limitations resulting from his disability.
The Martin 16 (2) is a sailboat designed specifically for people with disabilities. Prior to its development other boats were adapted, but not ideally suited, for sailors with MD. One of the main benefits that the Martin 16 offers is that it levels the playing field for the wide range of disabilities. Locally in San Diego, the American Institute for Marine Studies (AIMS) uses a fleet of Martin 16s to provide therapeutic recreation free for all people with disabilities.
The hallmark of the Martin 16 design and class is its flexibility and adaptability, offering a variety of options for controlling sails and steering. For example, a paraplegic with full use of his/her arms can control the tiller and work the sheets the same way as an able-bodied person. Someone with mild multiple sclerosis who might not have the strength to work the sheets can control them with an electric windlass. An individual with quadriplegia can use the electric windlass and an electric actuator for the rudder. For those who require further modifications, two other control methods for the electronics package exist. Mid-level quadriplegics can use a joystick, similar to those that operate wheelchairs. Without any arm or shoulder movement, a sailor can use a "sip and puff" device to operate the electronics.
STATEMENT OF PROBLEM
In the first meeting with Todd, it was essential to ascertain his level of function. Due to the progression of muscular dystrophy, his strength has been reduced to the point that he has only limited finger and thumb movement. This negated any potential use of the standard joystick. Although the Martin 16 has been sailed by other individuals on ventilators using the sip and puff switch, Todd was not a candidate for this method. Todd's situation required a completely new approach.
When asked how he controlled his wheelchair, he described the "fiber-optic" interface that he uses. The heart of the system is an ALS 203 fiber-optic interface that converts the signals from three fiber-optic sensors into "open and close" contacts. The manufacturer (Adaptive Switch Laboratories) (3) has a broad range of "alternative input devices" for driving wheelchairs and other activities of daily living. The drive sequencing controls take inputs from individual relays.
DESIGN & DEVELOPMENT
My professional background as an engineer includes 10 years with a company called Medland Controls. We designed and built automatic control systems for a variety of applications ranging from sewage pump stations and water treatment plants to shipboard propulsion and assembly lines. It provided me with practical and theoretical experience in all facets of systems integration. This is the process by which different components are pieced together and incorporated together to operate as a functioning unit.
Figure 1: Todd in his wheelchair on the dock, with seating support and ventilator next to him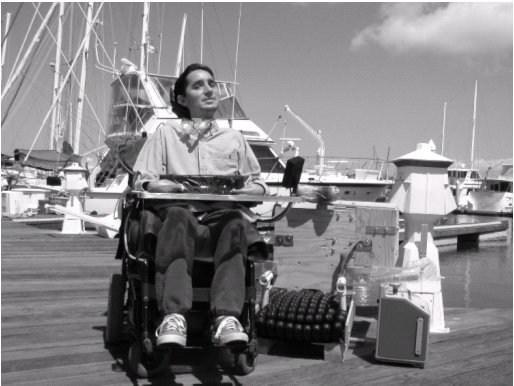 Figure 2: Fiber optic Interface Unit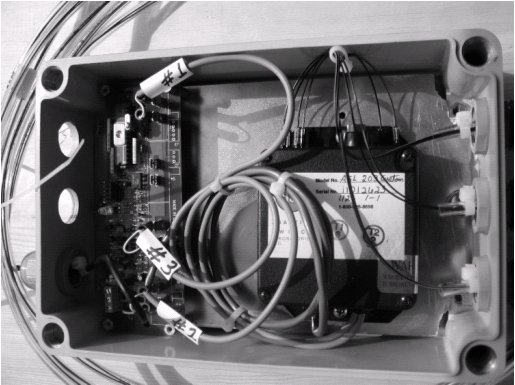 Operation of the boat's electronic control can be simplified so it requires only three switches. The two modes are "steering" for the rudder and "sheeting" for the sails' windlass. One of the switches toggles the modes between steering and sheeting. Then the other two switches control "port and starboard" or "sail in and sail out." By proper switch selection, this can be operated by almost anyone. Todd would cover the three individual sensors with his fingers, and this action would trigger the fiber optic relays to change state. The circuit card communicates signals back to the Autohelm master controller using the SeaTalk protocol. Both Autohelm and SeaTalk are marine industry standards adapted for the Martin 16 application. Modifying the enclosure that was ordered from Hammond Corporation required six knockouts, three in either side, for the fiber optics and wire connections. In addition the circuit card and fiber-optic relay box needed to be mounted inside the box.
A multifaceted group including a designer/draftsman, machinist/assemblyman, and a technician/electrician was needed. For these individuals I turned to a group of former colleagues, all experts in their respective fields. The team included: Roy Jenkins of Dynalectric, performing the CAD work; Jose Garcia of Pacific Defense Systems, modified the enclosure; John Winnai of Computer Sciences Corporation, wiring the system; and Dave Stillwell of Centaurus Systems, packaging the entire assembly. Once completed Josh Ross, the "Captain" of AIMS tested the interface.
EVALUATION & DISCUSSION
Funding always presents a challenge, but ours took care of itself, without a lot of hassles or problems. The ASL interface box and the three fiber-optic sensors were procured by Josh Ross of AIMS. Due to the nonprofit status of AIMS and the nature of the project, he was able to get these parts donated. The SeaTalk circuit card came from Steve Alvey of Inventure Management Limited (IML). IML is the organization responsible for the Martin 16 class development and the marketing all of electronics and adaptations for the boats. When we told him about the project and Todd's situation, he was more than happy to make his contribution. For the minimal cost of the enclosure, I felt compelled to purchase this.
With the technical nature of the project solved and interface functioning as needed, the biggest problem was actually getting Todd to the boat. In anybody's day there can be certain setbacks and distractions from recreation, but in Todd's world there are so many more potential pitfalls. He is completely dependent on other people for every aspect of his life, and therefore their problems become his problems. From his first contact with AIMS when he indicated a desire to go sailing, it was over a year before he actually went sailing. His patience and perseverance should be a model for everyone.
CONCLUSION
By integrating the fiber-optic proximity switches to the Martin 16's electronics package, Todd is able to steer the boat independently. He still must take a nurse or companion with him on his voyages, but he can now leave behind his wheelchair and the confines of terra firma. Todd has now been sailing twice on the Martin 16, and has enjoyed these adventures immensely. This project illustrates the utilization of technology to help bring a positive change on someone with a disability. Todd Galli is now able to enjoy a successful form of recreation that he could not otherwise access.
REFERENCES