---
Kitchen Helpers
ABSTRACT
A set of devices has been developed to aid people with cerebral palsy in common kitchen tasks. These devices provide support for mixing foods, spreading condiments, opening jars and soda cans, and cutting food. The devices have been modified from commercially available products to provide more stability, grip and easier movement control. Each device is relatively inexpensive, easy to assemble and operate, and attractive.
KEYWORDS:
Kitchen devices, mixing bowl, jar opener, cutting board, knife
BACKGROUND
These devices were designed considering with the abilities of our client, a 13-year-old boy with quadriplegic cerebral palsy [1]. He as more involvement in his lower body than his upper body, and more involvement on his right side than on his left. His wrists involuntarily bend inwards due to muscular inflexion in his upper limbs. Currently, he has limited muscular coordination for making fine movements, such as lifting the tab of a soda can. He can perform simple tasks such as pouring and grasping but has trouble using both hands to stabilize the containers. He is active in many aspects of his life and is very interested in working in the kitchen.
Many available commercial items are designed to aid people with limited hand strength and dexterity. Several of these devices, such as the Spreadboard [2], Good Grips Jar Opener [3], Swedish Cutting Board [4], and the Ergonoma Chef Knife [6], address our client's needs but require modification so he can properly use them.
PROBLEM STATEMENT
The goal of this project is to create a set of devices that will help our client be more independent in the kitchen. Each of the devices must meet certain objectives. First, the devices must be safe to prevent our client from harming himself. Second, the devices must be washable and made out of non-corrosive material. Third, they must be easy for our client to use. Finally, the devices need to be adaptable to multiple tasks and should encourage our client to be more independent.
RATIONALE
Providing our client with a set of devices to help him work in the kitchen will encourage him to be more independent and boost his self-esteem. Our client uses a power wheelchair on most days and although this provides him freedom of movement around the house, his mother still takes care of many smaller tasks for him. As he has grown older, both his mother and his physical therapist realize that he needs to depend less on his mother. These devices will allow him to work in the kitchen, even when his mother is unavailable. He will be able to open jars on his own and make his own sandwiches, tasks that currently require his mother's help. He will also be able to mix and cut foods alongside his mother. These tasks will be small but important steps towards independence for our client.
DESIGN AND DEVELOPMENT
We began the design process with an initial meeting with our client and his mother where we assessed the needs and rationale for the devices. We also met with our client, his mother and his physical therapist at his weekly physical therapy sessions to refine and evaluate our designs and evaluate the devices. We conceived the devices based on the tasks that our client deemed most desirable: mixing salad and recipes, making his own sandwiches, opening jars and soda cans, and cutting items such as lemons and sandwiches. Initially we brainstormed ideas for a mixing bowl, a condiment spreader, a jar opener, a jar holder, and a cutting device. We refined our ideas by researching commercially available products and considering how they might be modified to better serve our client. The final devices consist of a mixing bowl, a jam stamp and Spreadboard [2], a jar opener, and a cutting board that functions both as a jar holder as well as a knife mount.
Figure 1. Mixing Bowl (Click image for larger view)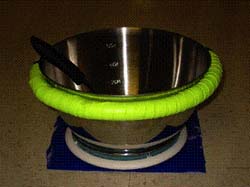 The mixing bowl assembly (photo 1) is used for mixing a salad or recipe ingredients. It consists of three main parts: an 8qt. stainless steel mixing bowl, an 8" diameter turntable and a gum rubber gripping ring.
The bowl secures to the turntable using Velcro. The rubber ring has a slightly smaller diameter than the top of the mixing bowl so that it fits tightly around the lip of the bowl, creating a good grip for turning and holding the bowl. The turntable allows our client to turn the bowl while mixing, eliminating the need to stir in a circular motion. The heavy base of the mixing bowl and turntable assembly makes it less likely for it to tip and flip over. Rubber mats attached to the bottom of the turntable and a Dycem mat for the kitchen counter prevent the mixing bowl assembly from sliding.
Figure 2. Jam Stamp and Spreadboard (Click image for larger view)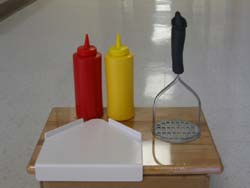 The jam stamp and Spreadboard (photo 2) are used to spread different condiments onto bread evenly. The main components of this device are: the jam stamp, Spreadboard and 12oz squeeze bottles.
The squeeze bottles store different condiments in a form that is easy for our client to apply. The Spreadboard is commercially available and rests against a counter edge. Its raised edges keep bread from moving. The jam stamp is adapted from a potato masher by welding a circular stainless steel plate with a 4.5" diameter to the bottom. The upright handle allows for easy movements of the jam stamp without bending the wrist. The large surface area allows the condiment of choice to be spread evenly with minimal movement.
Figure 3. Jar Opener (Click image for larger view)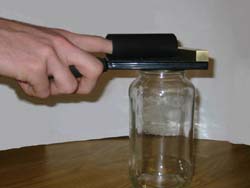 The jar opener (photo 3) is used to open jars with lids of varying sizes. The main components of our design are the commercial jar opener [3], finger hold, magnets located under the plastic covers and a brass weight secured to the front end of the jar opener.
The weight helps to stabilize the jar opener by putting force onto the end without the use of the hand. The finger hold helps the hand have a stable grip on the jar opener. Magnets countersunk into the jar opener surface attract most jar lids and also help stabilize the operation.
The cutting board (photos 4 & 5) serves two purposes: to hold jars and to mount a knife. Without the knife mounted, the cutting board [4] serves as a jar holder with jars fitting tightly between a sliding panel and two square pegs. Two commercial quick-adjust bar clamps [5] secure the cutting board to the countertop to prevent rotation.
Figure 4. Cutting Board as Jar Holder (Click image for larger view)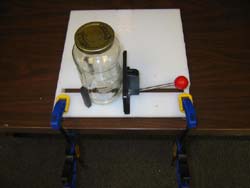 A custom aluminum knife mount allows foods to be safely cut with the Ergonoma chef knife [6] by bringing the knife down in a chopping motion. A custom guard surrounds the knife to further protect hands and fingers. The guard attaches to the knife with a small spring, so that the knife only drops below the guard when food is being cut, and only by the depth of the food. A spring pin in the knife mount allows quick removal of the knife for cleaning.
Figure 5. Cutting Board and Knife (Click image for larger view)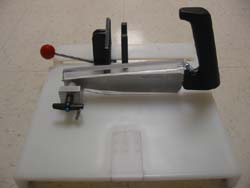 EVALUATION
During the design and development process, we met weekly with our client and his physical therapist. Our client continuously tested prototypes we developed, and we modified our designs based on how he performed. We performed analysis on the mixing bowl and found the force needed for tipping. As a result of this analysis, we made the base of the bowl heavier by adding the turntable. The most significant design modifications were made on the jar opener. We realized our client had trouble stabilizing the jar opener and thus added the weight and magnets to the design. Finally, we developed a user evaluation form to receive feedback from our client, his mother and therapist on several aspects of the designs including safety, ease of use, portability, and aesthetic look. Results indicated that the devices met the needs our client.
DISCUSSION AND CONCLUSIONS
The main advantage of the kitchen helpers is the range of tasks that can be performed and the low cost of development and replacement. Our client can now mix and cut foods, open jars and soda cans, and make sandwiches using the devices. In addition, they are easy to assemble, transport and clean. A disadvantage of the kitchen helpers is that they are not suited for all kitchen tasks; our client will still need assistance when measuring. Our client will also need assistance in the care and maintenance of the devices. His mother has agreed to wash the devices after he uses them. We have tested and evaluated our devices using feedback from both our client and his physical therapist, with positive results. We hope that the kitchen helpers will improve our client's independence and enjoyment as he develops his skills in the kitchen.
REFERENCES
St Louis Children's Hospital, Center of Cerebral Palsy Spasticity. <http://cerebralpalsy.wustl.edu/>
"The Spreadboard", Yahoo Stores, The Wright Stuff. Grenada, MS. September 14, 2003 <http://www.shop.store.yahoo.com/makinglifeeasier/spreadboard.html>
"Good Grips Jar Opener", OXO International. NewYork, NY. September 14, 2003 <https://www.oxo.com/catalog/product_focus.asp?product_id=01000102&page=1&category_id=00001130>
4. "Swedish Cutting Board", Westons Internet. West Sussex, England. September 14, 2003 <http://www.westons.com/acatalog/Online_Catalogue_Swedish_Cutting_Board_595.html>
5. Quick-grip bar clamps, Irwin Industrial Tools. Dewitt, NE.
6. "Ergonoma Chef's Knife", Grip Advantage. Inverness, FL. September 14, 2003 < http://www.gripadvantage.com/specific.php3?keyword=kitchen:knives&id=15>
ACKNOWLEDGMENTS
We would like to thank Dr. Larry Bohs, our professor, for providing support in the design process and giving us this opportunity. Our teaching assistant, Mark Palmeri also provided support in the design and construction of our devices. We would also like to thank Robbin Newton, our project supervisor, our client and his mother for providing feedback and advising on meeting the needs of our client. This material is based upon work supported by the National Science Foundation under Grant No. 0118558.
Author Contact Information:
Huikai Luu
11283 NW 69 th Place
Parkland, FL 33076
Email: hjl@duke.edu
Vivian Yeoh
Box 95923
Durham, NC 27708
Email: wwy@duke.edu