A Locker Assistant Device
Bo Xiao, Kevin D'Auria
ABSTRACT
Some students with Cerebral Palsy have muscle tightness and coordination problems which limit them from being completely independent at school. Managing books within a locker in the short time given between classes is an issue for students with Cerebral Palsy that many schools have not addressed. We have designed and built a device to fit in a school locker that assists our client in managing her textbooks. The design allows our client to take books in and out of her locker in under 2 minutes, which gives her ample time to travel back and forth to classrooms between classes. The device also has the ability to be moved to another locker when our client changes schools.
KEYWORDS:
locker assistant, wheelchair, Cerebral Palsy
METHODS AND APPROACH
Problem Statement
Cerebral palsy refers to any one of a number of neurological disorders that appear in infancy or early childhood and permanently affect body movement and muscle coordination. The condition is caused by abnormalities in parts of the brain that control muscle movements. With assistance and proper care, many children with cerebral palsy can live full, meaningful, and happy lives (1).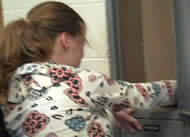 Image 1. (Click for larger view)
Designing an assistant device for a person with disabilities requires the identification of the very specific limitations and abilities of the potential user. Thus, multiple appointments were scheduled with our client so that we could define the problem we were to solve. Our client is a 13 year old middle school student who has cerebral palsy and uses a power wheelchair. She principally uses her right arm and reaches forward to handle objects. Her left arm is very stiff and remains contracted close to her body. Thus, she only uses her left arm for stabilizing or pushing on objects very close to her body.
Such challenges and overall arm weakness, tightness and coordination make it difficult for her to independently manage the books in her locker. Her wheelchair can raise her lap approximately 12 inches from the bottom of her locker. However, the distance between her and the locker forces her to stretch and fully extend her arm forward to reach books. In such a position, she is able to lift very small notebooks, but she has neither the strength nor the coordination to lift a heavy textbook.
Development of Design
During concept development and prototype testing, the design progressed from a complicated device with little user interaction to a device that used the strengths and capabilities of the client as much as possible. This greatly simplified the project and reduced the design to a custom drawer that brought textbooks out of a locker with a specialized platform to load and stack books. An added benefit to greater user interaction was the satisfaction of the client knowing that she, with the guidance from our device, was able to do the majority of the work herself.
DESIGN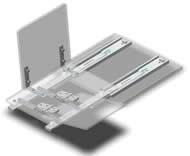 Image 2. (Click for larger view)
We decided the most effective solution was a custom drawer that brought the textbooks from the inside of her locker closer to her lap. The platform that allowed her to load her book onto the drawer consisted of a flap that folded down adjacent and parallel to the drawer base. The base of the entire flap with book on top could then be pushed on linear slides to center of the drawer base, after which the flap and textbook can be rotated vertically to tightly stack a textbook. We noticed that she had ample strength to lift a book but had a very difficult time grasping the book to lift it the approximately 6 in. to her locker. Thus we built very simple velcro straps that wrap around any textbook and act as a handle to aid her in grasping and lifting a book.
Sliding Drawer
The base of the entire assembly was made out of 3/8" acrylic that was cut to fit the dimensions of the inside of the locker. Two 10", ball-bearing, three-piece, drawer slides were loaded on to the base using machine screws with nuts counter bored into the base. When fully extended, the drawer jutted out from the locker 8". To counter the moment created by books on an extended drawer, stabilizing rods which ran from the top of the locker to the base were installed. These rods, screwed into the base, consisted of two concentric and hollow rods that were threaded so they could be extended in length to fit tightly in the locker and exert force on the base.
The bottom of the drawer was built from acrylic and was directly attached to the drawer slides using machine screws and plastic spacers. To allow for the linear slides use by the flap, two rectangular slits were cut through the base. Two L-Brackets were used to attach an acrylic sheet as a drawer side.
Linear Rails
Before a book could be rotated from its horizontal to its vertically stacked position, it needed to butt against the side of the drawer or already stacked books. Otherwise, the lifted textbook would have nothing on which to lean and remain stacked. Two linear rails were attached on top and perpendicular to the drawer slides. Two small hinges were attached to the ball-bearing blocks that slid up and down these rails. This allowed the flap to move horizontally across the bottom of the bottom of the drawer and also rotate from a horizontal to vertical position.
Sliding and rotating flap
The flap used attached to the linear rails was a 4" by 9" acrylic which served many uses. With the aid of a book handle, our client was able to make a quick broad movement up to a platform. Thus, the flap that folded down to extend from the base of the drawer created a wide area for easy loading of a textbook. Once atop a platform, our client could easily slide and position the book. The book could then be easily slid further in to the inside edge of the drawer and then rotated up to be tightly stacked. Finally, the flap when folded down prevented the drawer from inadvertently sliding back into the locker.
Book Handle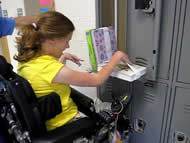 Image 3. (Click for larger view)
Our client was capable of lifting a weight equivalent to that of a textbook, but usually dropped a book because she could not grasp it or hold it shut. An adjustable velcro strap was built that looped around the back cover of a book. Velcro straps then folded over the bottom and top of the book to attach and create a strap that acted as a handle while simultaneously holding the pages of the book shut.
CONCLUSION
The final design was capable of holding three large textbooks. She successfully took a textbook out and put a textbook back into her locker within 2 minutes, giving her 1 minute of time to go to class. Below is a quote from our client.
"I think the locker assistance device will make it easier for me when switching classes because I will not be as dependent on others to get books in and out of my locker. It should make it faster and less stressful for me to make the change. I think it will also help to keep my locker better organized."
DISCUSSION
The challenge of this project, as with many other devices for people with disabilities, was identifying the specific capabilities of the client. Only after a thorough analysis of the challenges and capabilities, did the design become applicable, efficient, and safe. Throughout the design process, we simplified the device to promote user interaction. Our client's physical therapist noted that it has been helpful for our client to work through the whole process with us and try things several times and different ways to find the most beneficial solution for our client. With more user interaction in mind, the final device we built encourages our client to use her own abilities. The device we build not only assist our client in managing books, it also gave her a combination of confidence and satisfaction in her own abilities. This device has potential to be extended to others with difficulties in muscle movement and coordination to help the individual to manage a book or a similar object in and out of small confined space.
REFERENCE
Green, C., Proch, C., & Gara, S. (1997). The changing face of cerebral palsy: A review of the disorder and its treatment. JOURNAL OF NEUROLOGIC REHABILITATION, 11(4), 245-253.
ACKNOWLEDGEMENTS
This project is funded by the NSF grant 0453339. We would like to thank Richard Goldberg and Kevin Caves for their assistance with the development and design of the device. Special thanks to Steve Emmanuel for help in manufacturing advice and Charlotte Hughes for making time for us to meet our client and test the device. Finally, we would like to thank our client and her family for being so helpful and willing to work with us.