A Study on the Behavioral Characteristics of People with Disabilities for Developing Adaptive Vehicles
Jinhyun Lee, MS, Sangnam Kweon, MS, Seung Bin Lim, BS, Kunmin Rhee, PhD
ABSTRACT
The purpose of this study was to find out about the behavioral characteristics and inconvenience factors from the perspectives of disabled drivers and the caregivers for developing and using adaptive vehicles. Using a survey, inconvenient factors when getting in and out of a vehicle have been analyzed according to different types of disabilities. Also, motions of getting in and out of real vehicles have been recorded using video camcorders. As a result of a survey, among 40 questions, 33 questions have been answered as inconvenient for disabled drivers. For the caregivers, 23 questions out of 26 questions have been answered as inconvenient. As a result of analyzing the motions, inconvenient factors when getting in and out of vehicle, as well as during driving, were analyzed according to different disability types. Finally, improvements to the inconvenient factors which have been identified were proposed by introducing various types of adaptive driving controls and assistive devices from different countries.
Keywords
Adaptive Vehicles, People with Disabilities
BACKGROUND
In 2008, a law was enacted in South Korea to guarantee improvements of convenience for disabled people, for seniors, for pregnant women, and for nursing mothers. The goal of this law was to ensure these individuals' rights to public conveniences despite their disabilities. However, even with this law, public transports (such as buses, taxis, and subway trains) are today inadequately equipped with proper facilities for disabled people. This inevitably results in these people having to buy and use their own automobiles to move around. While this may not be an issue for some, most disabled people lack proper funding to purchase their own vehicles and, as a result, must find alternative funding. In addition, automobile manufacturers do not consider the personal differences of all users with disabilities. In particular, the severity of conditions and the variation in body shape and size are rarely taken into consideration. Consequently, disabled people often use adaptive vehicles without any safety standard or legal base for the car. Because of this, they run the risk of being a road hazard and being involved in traffic accidents (1).
With the need to build adaptive vehicles and the increased desire for mobility of disabled people, it is necessary to adopt modified cars for the disabled to the extent that even those with severe disabilities can ride on power wheelchairs and drive them independently, as is done in the U.S. Furthermore, vehicles that can be easily driven by the guardians of the disabled, the elderly, and other disabled individuals need be made in preparation for the aging society. Moreover, it is urgently required to support research efforts to develop methods which aid in getting in and out of vehicles. This includes low-deck vans, wheelchair lifts with rotated seats, and other adaptive driving devices. There hardly exists expertise and social awareness of the necessity to design customized cars in consideration of the physical characteristics and mobility of people with disabilities and their particular needs and desires. In that sense, scientific approaches and discussions are highly essential prior to legal systems and widespread social consideration.
Given the problems aforementioned, this study is concerned about the structural design concepts of adaptive vehicles for people with disabilities by ensuring their rights to mobility and access based on the following objectives:
This study is to suggest necessary improvements of inconvenient elements as well as the ergonomic design standard to develop adaptive vehicles by evaluating the types of needs and observing the behaviors of people with disabilities and their guardians through a survey of their car use.
METHODOLOGY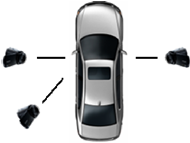 Figure 1. : Position of three video camcorders
For the purpose of developing adaptive vehicles for the disabled people, this study involved such efforts as surveying by selecting 30 participants. The participants were consisted of 20 disabled drivers and 10 caregivers. The disabled drivers were divided in to 11 paraplegia, 4 hemiplegia, 3 one-handed, and 2 one-footed. The survey consisted of 40 questions asking inconvenient factors about adaptive vehicles. The survey was done by interviewing one to one directly.
In addition to the survey, three video camcorders were used to analyze the behavioral characteristics of the disabled drivers and the caregivers. Three video camcorders were placed on the left and right side of the front doors of the vehicle as well as placing one on the back door so that it points diagonally toward the driver's side.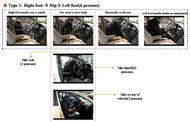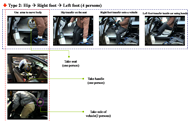 Figure 2 : Paraplegic driver transfers from a wheelchair onto a vehicle
Other than adaptive driving controls such as a hand control on the left or right side of a steering wheel and left foot acceleration pedal depending on the different types of disabilities, no other controls were installed into the adaptive vehicles. There were 8 caregivers whom they were caring for persons with quadriplegia and 2 caregivers for mentally retarded.
RESULTS
1. Results of survey
First, there were high degrees of inconvenient factors and low satisfaction with the vehicles they were currently using. Specially, disabled drivers expressed inconvenience and discomfort in manipulating an emergency light buttons to instantly cope with dangerous situations while they were driving. In the case of caregivers, the most inconvenience occurred during the transferring of mobility devices such as a wheelchair while getting in and out of a vehicle.
Second, both disabled driver and the caregivers expressed inconvenience when controlling seats forward, backward, and reclining as well as fastening seat belts. It was analyzed that special ergonomic design to assist seat belts and ways to manipulate seats more conveniently by adjust seating and positioning were needed.

Figure 3 : Transferring a wheelchair into a vehicle
Third, compare to disabled drivers, caregivers expressed more inconvenience and they were dissatisfied toward vehicles.
2. Results of behavioral analysis
1) Paraplegia driver
First, when paraplegic driver transfers from a wheelchair onto a vehicle, he/she uses arms to move body or to shift weights. Since there are no special hand grips on the seating system, steering wheel or body frame of the vehicle is used to support the body. It was learned that because of the base height of the vehicle, leg tends to get stuck in the doorway when transferring a person into the vehicle.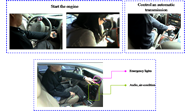 Figure 4. : Difficult of one-handed driver
Second, when sitting on a seat to drive a vehicle, paraplegic drivers in most cases can not use their lower extremities. Therefore, it is very difficult for them to control seat to move forward or backward especially, when the control is done by manually.
Third, when transferring a wheelchair into a vehicle, the methods for lifting slightly changes for paraplegic disabled drivers. In general, two arms were used when transferring a wheelchair into a vehicle. However, when the muscles of both arms become weak, a wheelchair was lifted to the top of the legs(thighs) and was rolled on to the passenger side of the seat. It is expected that impairment may occur to the arms and waist parts of the body because it puts much load due to the heaviness of a wheelchair.

Figure 5. : Improvement on problems with the inconvenience into the Vehicle
Fourth, for the subjects who have been participated in the study, most of them were using hand control. Although signal light buttons were located on the left side of the hand control, it was not easy for them to activate it while driving the vehicle. In order to put brakes on or to stop, one needs to push hand control continuously to forward, it generates fatigue on the hands and wrist.
2) One-handed driver
Since most of the vehicles are designed for the right handed users and because one has to insert a left hand between the steering wheel to activate, it was very difficult for left one-handed driver to start the engine. Also, since controls for emergency lights, audio, and air-condition were located on the right side of the steering wheel, it was very difficult for left one-handed person to use it while driving. On the other hand, for the right one-handed driver, it was difficult to open and close a door. Also, it was learned that according to where the seat control was located, there was difficulty in activation for the one-handed disabled driver.
3) One-footed driver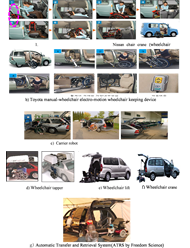 Figure 6 : Improvement on problems with wheelchair keeping
In the case of driving a sedan, without installing a left foot acceleration pedal, one needs to use left foot to press the acceleration pedal. This may lead to a pelvic rotation.
4) Hemiplegic driver
By analyzing behavioral characteristics of hemiplegic drivers, following problems have been identified: difficult to control seats forward, backward, reclining, difficult to control emergency light buttons and windshield wipers.
5) Caregivers
In the case of caregivers, most of their disabled persons were using power wheelchairs. Since it was difficult to upload a power wheelchair onto a vehicle, they left the wheelchair either at school or worksite. Hence, the participation of a disabled person in social activities was limited due to unableness to upload a power wheelchair onto a vehicle. When the caregiver transfer a disabled person into the vehicle, it was likely that the legs and the upper extremities of a person tends to get stuck in the doorway.
DISCUSSION

Figure 7: Improvement on the difficulties operating direction and emergency winkers and brakes
Following improvements are proposed to resolve inconveniences identified by the participants from the study.
1) Improvements for paraplegic drivers
First, the major inconvenience occurred when the paraplegic drivers were getting in and out of a vehicle. Measures to improve the difficulties and to better access the vehicle following devices are recommended as follow: side flap seat, driver's seat assist grip, rotated seat, and power seat lift.
Second, after a person enters a vehicle, there must be ways to transfer a wheelchair into or onto a vehicle. Topper(a car top carrier), chair crane(by Nissan), carrier robot, Automatic Transfer and Retrieval System(ATRS by Freedom Science) can be considered to improve inconvenience. When it comes to keeping a power wheelchair or a scooter in a vehicle, ramps, wheelchair lift, and cranes can be used. Also, while lifting wheelchair to keep in into a vehicle, scratches on the body of the vehicle can be protected by placing a side plastic guard on to the side of the doorway.

Figure 8. : Improvement on inconvenience of adjusting seats and sitting posture
Third, a hand control type from Toyota(Porte) can be used. It is form of ergonomic grip and various added functions such as horn(beeper), emergency buttons, left-right signal light, foot brake and hand brake are all built into the control.
Fourth, when transferring a manual wheelchair into and out of a vehicle, it is recommended that the seat reclines close to 90 degrees by simply pressing a button(in the case of automatic) or pulling a lever(in the case of manual). In the future, a remote control device will be needed for controlling seats automatically.
2) Improvements for one-handed drivers

Figure 9 : Improvement on the difficulties with car doors while getting into the vehicle
An automatic sliding door can enhance convenience for right one-handed driver. This removes difficulty of opening the door resulting from right hand being overlapped with the left hand when opening a door. By extending a signal light lever to the right side of the steering wheel, a right one-handed driver can easily activate a signal light lever with a right hand. By installing a hand control to the left side of the steering wheel, left one-handed driver can reduce inconvenience. Also, if manipulation of controls for emergency lights, audio, and air condition can be done from the steering wheel(such as some luxurious cars), this may improve convenience for left one-handed drivers. For the one-handed drivers to control seats, improvements for paraplegic drivers can be applied to give them better access to the vehicle. By installing a 'smart key' on the left side of steering wheel, a left one-handed driver can easily start the engine.
3) Improvements for one-footed drivers

Figure 10 : Improvement on problems occurring while driving
In order to prevent pelvic rotation, left foot acceleration pedal needs to be installed. However, one must consider the situation where by installation of left foot accelerations pedal can interfere with driving when the family or other non-disabled persons drive. It is recommended that the acceleration pedal from Toyota be used to settle this kind of problem. This device can be folded when not in use and the distance and angle can be properly adjusted according to the user's preference.
4) Improvements for hemiplegic drivers
For hemiplegic drivers, the inconvenient factors are very similar to the one-handed and one-footed drivers. Therefore, improvements for one-handed and one-footed drivers can be combined to give them better access to the vehicle.
5) Improvements for caregivers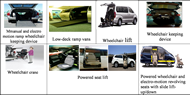 Figure 11: Improvement on problems with driving and loading wheelchair for caregivers
In order for caregivers to better access vehicle, following adaptive driving and mobility devices are recommended: power and manual ramps, wheelchair lift system, powered seat lift, wheelchair crane system, and rotated seat.
REFERENCES
1. The human rights forum of persons with disabilities in Korea. (2006). Welfare Vehicles of Korean Supporting Model
2. K.M. Rhee., D.Y. Lee., S.C. Lee., D.Y. Lee., M.J. Lee., K.M. Kim., K.M. Kim., (2004). A study on the conceptual design of cars accessible for persons with disabilities.
3. Albert M., Cook, Susan M., Hussey. (2002). Assistive Technologies(2nd ed.), Mosby, pp 358-370
4. J.M., Pellerito, Jr. (2006). Driver Rehabilitation and Community Mobility, Elsevier Mosby, pp. 202-222, 2006
5. http://www.braunability.com/chair-topper.cfm
6. http://www.mobilityworks.com /