Using Design Thinking Method To Develop Co-Exercise Mixed Reality System For Stroke Survivors
Myung Joon Lim*, National Rehabilitation Center, Korea; Eun Rae Ro, National Rehabilitation Center; Hyosun Kweon, National Rehabilitation Center
INTRODUCTION
Annually, 795 000 people in the United States experience a stroke[1].  Stroke survivors were found to be restricted over a wide range of domains but the greatest disadvantage occurred in the domains of mobility, physical independence and occupation[2]. In the meantime, many assistive technology devices and services have been introduced for stroke survivors, but they have not been successful. In fact, only one third of stroke survivors succeeded in returning to the community in 2014 in South Korea[3]. High-quality interactions that enable an individual customer to co-create unique experiences with the company are the key to unlocking new sources of competitive advantage[4]. It is not easy to find out people's real needs. What people experience is often determined by tacit knowledge or latent needs and is often difficult to express in words[5]. Design council in UK introduced a double diamond method as a new design thinking method in 2007[6]. The double diamond method is often used as a customer participation model. Clune and Simon[7] developed environmental sustainability strategies using the double diamond method. The aim of this study is to plan co-exercise mixed reality system for stroke survivors using design thinking (double diamond) method.
METHODS
Design and Procedure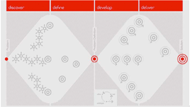 Overall a qualitative approach was taken within the research. The double diamond is formed from four distinct phases. These are Discover, Define, Develop and Deliver in Fig 1[6]. First in discover stage, we observed the behavior patterns of stroke survivors and conduct an in-depth interview to understand intrinsic desires. Second, define stage, values derived from behavioral observations were categorized based on Rokeach 's survey list[8] and Mashlow' s desire level[8] to derive core values. Third in develop stage, we found out various technologies to satisfy their core value. Also we used ICF framework to identity their activity and participation [9]. Finally in deliver stage, we created a storyboard to see how it could be realized.
Participants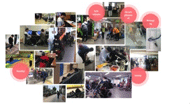 In order to find out the real value of the stroke survivors for social reintegration, we conducted various observations such as interviews with stroke survivors, professional, and welfare center. Of these, we observed two stroke survivors (age 52, age 42, male) and interview one stroke survivor (age 64, male)
RESULTS
Discover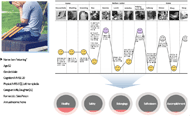 During observation, we found out several insights in Fig 2. The caregiver are separated from each other while sitting in a chair or waiting without any activity. Some mind stroke survivor helps a severe stroke survivor. Stroke survivors are playing the game of "go", and having fun. Welfare center provides attendance book, which motivates participation of stroke survivor.
Define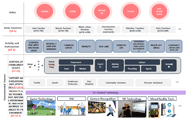 Based on the result of discover stage, a representative type of persona is constructed as shown in Fig 3. Persona "I'm returning" (age 52, male) has left hemiplegia due to stroke, cognitive impairment (K-MMSE) of 20, and physical ability (MRS) of 3. It is possible to move by using an assistant or a walking stick alone. Prior to his disability, he was a salesperson, but now he is unemployed and no income at all. He has a strong will to return to society, but his willingness to return to society is falling due to difficulties in integrating psychological disorders and welfare institutions. Based on the behavior observation and the persona, His day is expressed in the customer journey map as shown in Fig 3. He can go to the welfare center (bus ride, exercise, lunch, various activities, help other people) and go home (subway ride, Dinner, writing a diary, sleeping). The emotional curve of the journey was expressed and the value was analyzed by reflecting the emotional and intrinsic demands of each journey. His core value is Healthy, Safety, Belongings, Esteem, and Self-actualization based on the results of the discover stage.
Develop 1: Value-based ICF assistive technology development framework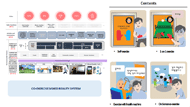 As shown in Fig 4, we developed a value-based ICF framework for social reintegration by combining five important values derived from behavior observation and ICF. The ICF core set for stroke survivors were extracted from the journal[10]. This framework aims for enhances the core value of stroke survivors with accomplishing ICF core sets including body function (ICF b), Activity and participation (ICF d), Environmental factors. It also helps to identify what kinds of environment factors such as service, systems and policies (ICD e5), supports and relationships (ICF e4), attitude (ICF e3), national environment and human made changes to environment (ICF e2), and finally products and technology (ICF e1). We also introduced various ICF related technology such as gaming technology, PUI, gesture recognition, VR, and Mixed reality technology.
Develop 2: Co-exercise mixed reality system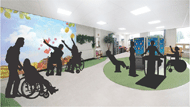 By using the framework in Fig 4 at the development stage, it is possible to suggest contents that can help the stroke survivor to return to society. We held design thinking workshop with various professional, and developed "co-exercise mixed reality system".  This system consists of four sub-games named self-exercise, 1 on 1 exercise, excise with health machine, and on screen co-exercise.
Deliver
The co-exercise mixed reality system for stroke survivors in community setting is shown in Fig 6. There are various types of community services and service funding systems in Korea. We proposed Business to Business model at the day care center and the welfare center for stroke survivors, and it is also possible to expand into the area of people with disability and the elderly. An eco-system that connects the game developer, service provider, and consumers is also introduced.  Also, the users can check my exercise situation through the game cloud and form a social network.
DISCUSSION & CONCLUSION
In this study, we planned and developed co-exercise mixed reality system for stroke survivors using design thinking (double diamond) method. During the design thinking procedure, we found out core values of stroke survivors, persona and their customer journey map. Also we set up Value-based ICF assistive technology development framework using ICF and core value. This new framework provides the basis for simultaneously thinking about ICF and core value in developing assistive technologies. Also when the co-exercise mixed reality system for stroke survivors is introduced, medical costs and indirect costs (depression and social isolation) are expected to decline due to social reintegration of stroke survivors.
REFERENCES
1.  Billinger, S.A., et al., Physical activity and exercise recommendations for stroke survivors. Stroke, 2014. 45(8): p. 2532-2553.
2.  D'alisa, S., et al., How does stroke restrict participation in long‐term post‐stroke survivors? Acta Neurologica Scandinavica, 2005. 112(3): p. 157-162.
3.  Kim, D.A., Preliminary study for designing social reintegration support program for people with stroke based in the hopital. 2014: National Rehabilitation Center.
4.  Prahalad, C.K. and V. Ramaswamy, Co-creation experiences: The next practice in value creation. Journal of interactive marketing, 2004. 18(3): p. 5-14.
5.  Visser, F.S., et al., Contextmapping: experiences from practice. CoDesign, 2005. 1(2): p. 119-149.
6.  Council, D., Eleven lessons: Managing design in eleven global companies-desk research report. Design Council, 2007.
7.  Clune, S.J. and S. Lockrey, Developing environmental sustainability strategies, the Double Diamond method of LCA and design thinking: a case study from aged care. Journal of cleaner production, 2014. 85: p. 67-82.
8.  Rokeach, M., The nature of human values. 1973: Free press.
9.  WHO, International Classification of Functioning, Disability and Health: ICF. 2001: World Health Organization.
10.        Geyh, S., et al., ICF Core Sets for stroke. Journal of Rehabilitation Medicine, 2004. 36(0): p. 135-141.