A Survey of Stepped Entrances Belonging to Businesses in Downtown Toronto: A Case Study
Sin-Tung Lau1, Dr. Sophia Yue Li1
1KITE, Toronto Rehab-University Health Network (Toronto, Ontario, Canada)
INTRODUC1TION
Improving the accessibility of the built environment for individuals with physical, sensory, cognitive, and other types of impairments has been a focus of research, public policy, and city planning and design. A central focus of research in this area has involved identifying and characterizing features of the built environment, such as curb ramps, that will facilitate access for users of wheelchairs. Curb ramps are ramps that are cut into a curb and provide a gradual slope enabling wheelchairs and strollers to move onto or from a sidewalk [1]. For instance, Bennett, Lee Kirby, and Macdonald evaluated curb ramps at 79 intersections in the city of Halifax, Nova Scotia to determine whether these features met accessibility guidelines for wheelchairs [1]. Similarly, other researchers examined wheelchair accessibility to public buildings in other urban areas including Istanbul, Turkey [2] and Al Anin, United Arab Emirates [3]. While these studies examined wheelchair accessibility from the perspective of compliance with design guidelines, other researchers used self-report measures, such as surveys, to capture the experiences and opinions of wheelchair users on barriers to accessibility [4,5].
Focus on Improving Accessibility in Built Environments
Since the passing of the Accessibility for Ontarians with Disabilities Act in 2005, which includes the Integrated Accessibility Standards (O. Reg. 191/11), there has been an even greater focus and drive to improve accessibility by making facilities and buildings barrier-free (see O. Reg 332/12 Building Code) [6,7]. This push towards improving accessibility comes at a critical time as the number of individuals in the oldest age cohort (65 years old and older) is expected to surpass the number of individuals in the youngest age cohort (14 years old and below) [8]. Further, aging is associated with declines in cognitive, physical, and sensory function, all of which can affect one's balance control and mobility [9,10]. Mobility disabilities can affect individuals of all ages. According to results from the 2017 Canadian Survey on Disability, disabilities affecting mobility was the third most common type of disability affecting individuals 15 years old and older, with the first and second common types being pain- related and flexibility disabilities, respectively [11]. Of the roughly 28 million individuals 15 years old and older who have a disability in Canada, approximately 9.6% had a mobility disability [11]. Barrier-free building features, such as curb ramps and accessible entrances, are not only used by users of wheelchairs and other mobility assistive devices, but also by individuals with strollers or who have difficulty with steps.
Built Environment in Downtown Toronto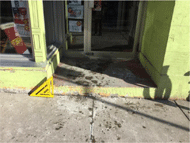 The City of Toronto has a total population of 2,731,571 people or 20.3% of the population of Ontario [12]. It has a population density of 4334.4 persons per km2 and is composed of 140 neighbourhoods [12]. The TOcore Plan or Downtown Plan is a proposal put forth by the City of Toronto that outlines what the community, cultural, and economic goals that city administrations envision for this area by the year, 2041 [13]. As part of this proposal, a central area, termed the TOcore Study Area, has been defined [13]. The boundaries of this area are: mid-town rail corridor to Rosedale Valley Road (north), Don River (east), Lake Ontario (south), and Bathurst Street (west) [13]. Given the large number of businesses concentrated in this zone, a survey of the number of business addresses with stepped entrances will provide insight into accessibility into an important area of the city.
METHODS
The data presented in this paper was part of a larger survey of businesses with stepped entrances throughout T oronto. T o narrow our dataset to businesses in the downtown core, we utilized the same boundaries used in the TOcore Study Area. An inventory of businesses with stepped entrances was conducted by researchers along 42 streets in the Downtown Toronto. Residential buildings were excluded from the survey. Photographs of each stepped entrance were taken from two perspectives, facing the entrance (see Figure 1) and from the side or perpendicular to the entrance. The distance surveyed was estimated using an interactive map found on a City of Toronto website [14]
The key outcome variable in this case study was the number of business street addresses with a stepped entrance, rather than the number of stepped entrances found. For instance, in cases where two businesses shared a single stepped entrance, this case would be considered two separate observations in the dataset.
RESULT
As shown in Table 1, a total distance of approximately 54,180 m was surveyed and 1073 business addresses with stepped entrances were identified. On average, the streets with the greatest density of stepped entrances per 100 m were Hazelton Avenue (M=14.4 entrances per 100 m) followed by Scollard Street (M=6.2 entrances per 100 m). When data from all 42 streets were considered together, there was an average of 2.3 (SD=2.4) stepped entrances per 100 m along the streets of the downtown core.
Table 1. The number of business addresses with stepped entrances on segments of 42 streets in Downtown Toronto.
Street Name

Estimated Distance Surveyed (m)

Number of Addresses with Stepped Entrances

Mean Number of Stepped Entrances Per 100 m

Adelaide St. E
Adelaide St. W
Avenue Rd.
Bathurst St.
Bay St.
Bellair St.
Bloor St. E
Bloor St. W
Carlton St.
Sherbourne St.
Parliament St.
Church St.
College St.
Cumberland St.
Duncan St.
Dundas St. E
Dundas St. W
Dupont St.
Elm St.
Front St. E
Front St. W
Gerrard St. W
Hayden St.
Hazelton Ave.
Jarvis St.
John St.
King St. E
King St. W
Parliament St.
Peter St.
Queen St. E
Queen St. W
Richmond St. E
Richmond St. W
Scollard St.
Sherbourne St.
Spadina Ave./Spadina Cres.
The Esplanade
Wellesley St. E
Wellesley St. W
Wellington St. E
Wellington St. W
DISCUSSION AND CONCLUSION
Given the exploratory nature of this case study, several future steps are recommended. First, the total number of business establishments in the area surveyed needs to be determined. This will enable the calculation of the proportion of businesses in this area that have stepped entrances. This information would provide some context to the proportion of establishments that are businesses that have stepped entrances. On a positive note, the average density of stepped entrances per 100 m along commercial areas like Front, King, Queen, Bloor, and Yonge Street were relatively low. This case study provides a snapshot of the physical barriers that people with mobility disabilities face in an urban environment. The number and height of steps will be analyzed in the future. Data collected as part of the larger study will provide the basis for developing solutions to stepped entrances.
REFERENCES
[1] Bennett S, Lee Kirby R, Macdonald D. Wheelchair accessibility: Descriptive survey of curb ramps in an urban area. Disabil Rehabil Assist Technol. 2009 4(1):17-23.
[2] Niilay Evcil A. Wheelchair accessibility to public buildings in Istanbul. Disabil Rehabil Assist Technol. 2009 (2):76-85.
[3] Ravano-Fischer D. Wheelchair accessibility of public buildings in Al Ain, United Arab Emirates (UAE). Disabil Rehabil. 2004 26(19):1150-1157.
[4] Bromley RDF, Matthews, DL, Thomas CJ. City centre accessibility for wheelchair users: The consumer perspective and the planning implications. Cities. 2007 24(3):229-241.
[5] Harris F, Yang HY, Sanford J. Physical environmental barriers to community mobility in older and younger wheelchair users. Top Geriatr Rehabil. 2015 31(1): 42-51.
[6] Government of Ontario. Accessibility for Ontarians with Disabilities Act, 2005. Ontario Regulation 191/11: Integrated Accessibility Standards. 2005. Retrieved from https://www.ontario.ca/laws/regulation/110191
[7] Government of Ontario. Building Code Act, 1992. Ontario Regulation 332/12: Building Code. Retrieved from https://www.ontario.ca/laws/regulation/120332
[8] Statistics Canada. Canada Year Book 2011. Chapter 28 Seniors. Catelogue no. 11-402-X. Retrieved from https://www150.statcan.gc.ca/n1/en/pub/11-402-x/2011000/pdf/seniors-aines-eng.pdf?st=CP4wya2B
[9] Shumway-Cook A, Woollacott M. Motor control translating research into clinical practice. Fourth edition. United States of America: Lippincott Williams & Wilkins; 2012.
[10] Public Health Agency of Canada. 2014. Seniors' falls in Canada second report. Retrieved from http://www.phac-aspc.gc.ca/seniors-aines/publications/public/injury-blessure/seniors_falls- chutes_aines/assets/pdf/seniors_falls-chutes_aines-eng.pdf
[11] Morris S, Fawcett G, Brisebois L, Hughes J. Canadian Survey Disability Reports. A demographic, employment and income profile of Canadians with disabilities aged 15 years and over, 2017. 2017. Retrieved from https://www150.statcan.gc.ca/n1/pub/89-654-x/89-654-x2018002-eng.htm
[12] Statistics Canada. Census Profile, 2016 Census. Toronto, City [Census subdivision], Ontario and Ontario [Province]. 2016. Retrieved from https://www12.statcan.gc.ca/census-recensement/2016/dp- pd/prof/details/page.cfm?Lang=E&Geo1=CSD&Code1=3520005&Geo2=CD&Code2=3520&Data=Count&Se archText=toronto&SearchType=Begins&SearchPR=01&B1=All&TABID=1
[13] City of Toronto. 41. Downtown Plan. n.d. Retrieved from https://www.toronto.ca/legdocs/mmis/2018/pg/bgrd/backgroundfile-114237.pdf
[14] City of Toronto. Toronto Maps v2. n.d. Retrieved from http://map.toronto.ca/maps/map.jsp?app=T orontoMaps_v2