Vocational Rehabilitation Counselors Perception of Role and Competencies in Assistive Technology
Al Noll, EdS, CVE - SVRI, University of Wisconsin-Stout, Menomonie, WI
Todd D. Schwanke, MSE, ATP - ATOMS Project, University of Wisconsin-Milwaukee, WI
ABSTRACT
Vocational rehabilitation counselors employed by state rehabilitation agencies constitute a significant potential customer and partner in the delivery of Assistive Technology (AT) services, especially vocationally-related services. The status of the counselor's perception of their role, function, and the competencies to perform these functions is a critical issue for the field of AT. If AT is to be a beneficial tool in the vocational rehabilitation of persons with disabilities, an understanding of the rehabilitation counselor is essential. This study assesses counselors in Wisconsin to better understand their perspectives using a statewide survey of 185 counselors. The data reveals interesting perspectives and explains one barrier AT service delivery encounters in Wisconsin.
KEYWORDS
Vocational rehabilitation counselor, role and function study, worksite accommodation, role and function
BACKGROUND
As a new field, Assistive Technology (AT) struggles with the ability of referral sources to identify the need for AT and coordinating provision of AT services. The realistic understanding of the potential outcomes and processes is critical to the success of the emerging field.
Counselors employed by state vocational rehabilitation are key professional partners to AT as a field. These professionals are potential referral sources. They also provide information on potential services to consumers under the "consumer choice concept" for consumers to make informed choices on services and vendors. In this process they are in the role of "gatekeeper."
It is critical for counselors to have adequate information and an appropriate perception of AT. Biases or a lack of knowledge can restrict the use of AT and limit the consumer's potential to benefit from AT. The 24 th Institute on Rehabilitation Issues (1) cited four barriers restricting rehabilitation counselors from using AT. These can be paraphrased as: the wide range of technologies available makes it overwhelming, expense of AT related to restricted budgets, lack of knowledge of specific devices or technologies, and technical assistance may not be readily available.
The counselor's understanding of their AT role and function is critical to measure. With this information assistive technologists can adjust their service programs to fit this understanding. State agencies can provide us this information to develop AT training programs resulting in increased benefit experienced by consumers from AT. They also have the option of working to change this understanding of role and function to provide smoother referral and service delivery processes.
An investigation of the counselor's perception of their role was conducted by Lawler (2). This study grouped 17 functions into four groupings. Lawler found "General Skills and Caseload Management" with AT services was the highest rated group of functions. The remaining groups ranked in order of importance were: Assessment of Technology Needs, Planning of Technology Services, and Application of Technology Services.
METHODOLOGY
While the field of AT would be interested in the perceptions and competencies of vocational rehabilitation counselors, so are their employers. In order to promote the use of AT to successfully serve persons with the most significant disabilities, state agencies have promoted training and administrative incentives to increase the utilization of AT. This interest was experienced by the Wisconsin Division of Vocational Rehabilitation (WDVR). Financial support and cooperation were committed to conduct a survey of all counselors in the state.
This commitment was made in conjunction with a request from the Assistive Technology Outcomes Measurements System (ATOMS) Project at the University of Wisconsin-Milwaukee. ATOMS was interested in investigating outcomes within a vocational rehabilitation system. This process was designed to include gathering information from counselors, consumers, and providers and measuring outcomes of cases in relationship to AT provision. While the ATOMS Project was interested in the investigation of AT delivery and outcomes for the betterment of the field of AT, WDVR's goal was to gain an understanding of the status of their counselor's skills and perceptions to aid in management decisions. With this understanding they will be able to set appropriate goals for training and administrative assistance in promoting appropriate use of AT.
As a partner in the ATOMS Project representing vocational-related AT services, the Stout Vocational Rehabilitation Institute (University of Wisconsin-Stout) was involved in the development of the counselor survey. This included securing approval of the survey by ATOMS and WDVR to assure the objectives of both programs were satisfied.
The Counselor survey was sent to all 185 counselors working for WDVR. A letter from the WDVR Director of the Bureau of Consumer Services requesting each counselor to complete the survey accompanied the instructions for completing the web-based survey. Counselors accessed the survey from the University of Wisconsin-Stout server. A total of 139 counselors completed surveys.
RESULTS
The counselors were asked to rate a group of AT related activities as to the degree each was perceived as a part of their role as a vocational rehabilitation counselor. The counselors were then asked to rate their perception of the competency they had to perform each of the AT activities.
Counselor Perception of AT Role
A review of the roles indicated that counselors perceived AT to be a part of their jobs in parity with other rehabilitation service activities counselors would perform. These activities included case management related functions such as making referrals, providing information to their consumers, purchasing equipment, determining the need for AT services, and providing follow-up services.
Activities that required additional technical functions were rated in the neutral range. Counselors did not view their roles as performing the highly technical services. These activities included making referrals for repair of AT and assisting in the selection of AT solutions (including low tech devices). Those functions that included actual handling of the AT were rated quite low as a counselor role. These included installation, modifying, fabricating, and reclaiming AT.
Counselor Comfort with AT Roles
The counselors' perceptions of their ability to perform AT activities were noted to generally range close to the neutral range. The functions that were most consistent with their traditional roles were making referrals, documenting outcomes, and following up with services. Those functions requiring additional AT knowledge to perform were rated below the 4.0 level. These activities included managing provision of services, recognizing the need for AT services, providing information to consumers, and purchasing equipment. Counselors indicated a near total lack of confidence in performing direct AT activities. These included reclaiming devices, training consumers to use AT, modifying or fabricating equipment, and installing AT.
Comparison of Role versus Competency
Figure 1 provides a convenient comparison of the counselor's perception of their roles and the comfort they had in their competence to perform these roles. In comparing the functions that counselors felt were a part of their role to the counselors' comfort performing those activities, a consistent profile was indicated. Counselors generally viewed themselves as less appropriate and capable in performing the more technical AT related services. However, the level of competence was not at as high of a level as the importance of the activity in their role as a counselor. This could raise an issue of counselor preparation and in-service training if providing direct AT services to be considered an important counselor function.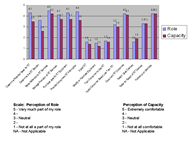 Figure 1: Counselor Perception of Their Role in Providing RT and Perception of Their Capacity to Perform These Roles d (Click image for larger view)
One activity that varied considerably between the importance of the role versus the level of comfort performing it was "Determine Potential Need for RT" (Rehabilitation Technology) (4.2 versus 3.5). This is troubling when one considers the sequence of providing AT services in the vocational rehabilitation process. If counselors are unable or uncomfortable identifying the need for AT, there is a significant risk consumers are not being provided AT when they would benefit from AT services. Given this fact, a significant barrier exists. Sixteen percent of the counselors were uncomfortable with the identification function. A full 43% were neutral or uncomfortable with their ability to perform this function.
REFERENCES
Twenty-Fourth Institute on Rehabilitation Issues. (1998). Achieving successful employment outcomes with the use of assistive technology. Menomonie: University of Wisconsin-Stout, Stout Vocational Rehabilitation Institute, Rehabilitation Continuing Education Center.
Lawler, M. (1994). Rehabilitation technology competence and vocational rehabilitation counselors. Unpublished master's thesis, University of Wisconsin-Stout, Menomonie.
ACKNOWLEDGMENT
This work is supported in part by the National Institute on Disability and Rehabilitation Research (NIDRR), grant number H133A010403 and Wisconsin Division of Vocational Rehabilitation. All opinions are those of the authors.
Author Contact Information:
Al Noll, Ed.S., CVE
UW-Stout
SVRI, 221 10 th Ave. E.
Room 101D
Menomonie, WI 54751
Phone: 715-232-2379
Fax: 715-232-5008
EMAIL: nolla@uwstout.edu
---