A Case Study on Development of Assistive Device Open Platform "Brand Identity" for People with Disabilities and Elderly
Eun Rae Ro (National Rehabilitation Center)*; Kwang Ok An (National Rehabilitation Center); Agnes Jihae Kim (National Rehabilitation Center); Hyosun Kweon (National Rehabilitation Center); Bum-Suk Lee (National Rehabilitation Center)
INTRODUCTION
Assistive devices are essential to improve quality of life and perform daily activities for the disabled or the elderly. Although some assistive devices such as wheelchair or crane can be used generally by a wide range of people with disabilities, there are some appropriate technology assistive devices that must be tailored to certain people including small but essential items such as nail clipper for one-handed person or sock dressing aids. Such assistive devices need to be produced in small batches because they can have different physical appearance and function depending on the type and degree of disabilities, so it is difficult for businesses to commercialize them. Due to this market situation, there is extremely limited types of appropriate technology assistive devices that meet the needs of the disabled and the elderly in South Korea. In addition, some developed assist devices are sold at relatively high costs. Many customers have difficulty with obtaining their necessary assistive devices because it is challenging to access information about appropriate technology assistive device developed in foreign countries, and the process of purchasing those is complex.
Assistive device open platform was designed to meet the needs of such market by allowing the disabled and the elderly to directly address their demand for the assistive devices and to share the developed appropriate technology assistive device, thus benefitting more people with disabilities and the elderly [1,2]. Assistive device open platform is a service that links technology, knowledge, and human networking to solve the problems addressed directly by the consumers. There is a high need for more people to recognize and utilize this service because it requires participation from not only customers but many developers as well. In addition, this platform is visioned to achieve the goal of sharing information about development and manufacture of assistive devices with greater number of people by sharing the developed assistive devices. Therefore, this study aimed to discuss and facilitate the positive intentions and exceptional presence of this service to users by developing a comprehensive brand identity (BI) for assistive device open platform.
THEORETICAL CONSIDERATION
Understanding of Appropriate Assistive Technology
Appropriate Technology is an application of technology to improve the quality of life or combat poverty by considering the cultural, political and environmental situation in developing countries, often by utilizing the level of technology in between high and low technology. In addition, it is often discussed as mid-technology or alternative technology. Even in developed country, it provides a technological direction that is useful for solving social problems faced by underprivileged class. The most important factor in the development of appropriate technology is to adequately consider the regional situation and the environmental aspect and to supply developed solutions at appropriate cost. Unutilized solutions fail to create benefits and changes in society, thus losing their values.
Reasonable price is prioritized as the first characteristic of the appropriate technology and is referring to the use of resources and technologies that are appropriate to the regional situation in order to encourage consumers to re- produce and manufacture themselves. The second characteristic is that development should be appropriate to the local environment. In places where infrastructures such as electricity and telecommunication are not well- established, appropriate technology can be used to develop African-style pot refrigerators that allow storing agricultural and fisher products without electricity. Another feature of appropriate technology is that large-scale social infrastructure is not needed. Most users of the appropriate technology are people with low-income in developing countries, living in environments without public infrastructure such as electricity, water, roads, schools, and hospitals. Although various international development assistance organizations are focusing on building infrastructure, this is bound to proceed very slowly as there is no large-scale investment and government cooperation. Thus, appropriate technology inventions are usually labor-intensive, consume less resources, and use materials that can be easily obtained at low prices or in any locations so that they can be used without social infrastructure [3].
In this study, appropriate technology assistive device refers to the devices developed using mid-technology to solve the difficulties faced by the disabled and the elderly in their lives and to assist them in rehabilitation and alleviate their physical discomforts. This is considered as a customized device with features tailored to user's physical condition or work environment at a reasonable price [4].
Understanding of BI
The dictionary meaning of BI is a creation of a brand's individuality and credibility by linking the brand's principles, purpose, activity, and expressions meaningfully, thus facilitating brand image recognition. In addition, it is easy to manage and unite employees through delivering integrated values. Particular methods include unifying mark, logo, color, preference, mind, coordination, sales promotion activities, advertising promotion activities, and marketing strategies [5].
Establishment of a BI is the task of determining what brand image to imprint to consumers. Hence, it is the establishment of a long-term vision regarding the brand. BI, therefore, must be clear and specific. Unclear BI may result in making mistakes such as delivering a confusing message to consumers or having only fragmentary results. When BI is too concise or brand communication is inconsistent, the value of the BI can be significantly reduced [6].
Therefore, BI needs to be strategically designed to ensure that business associated with particular products or services is recognizable to consumers by its logo or symbol and outrank other businesses. In addition, by considering customers with unique consumption patterns, brands need to be designed by meeting the following four requirements. First, establish a relationship between consumers and the brand. Second, provide a sensuous and diverse experiences. Third, show the vision of the brand. Fourth, express an emotional brand that can be creatively associated with. A brand can be memorable in customer's mind for a longer time when it has a symbolic meaning that are different from other brands [7].
The types of BI are as follows [8].
Logo-type: A logo that consists of letters and is designed to visually promote the brand by combining the company name or product name in three forms: Korean, English, or Korean and English. It can be used with a mark or a single letter due to its low level of preferences.
Logo Using Logo-type and Symbols: This type uses a logo and a symbol together which helps customers to recognize the brand. However, attention is required when designing with a logo-type that are unique as it can diminish the characteristic of the symbol.
Logo Using Abbreviation of Brand Name: This type of logo conveys a strong message to consumers by expressing the first letter in English or word in Korean of the brand name in a visual image. However, it may take extensive amount of time to make an abbreviated image with brand recognizable to consumers.
Logo Using Brand trade name as Pictogram: This is a type of logo that is expressed by representing brand trade name as picture, thus is easily recognizable and associative.
Association Logos: This is a type of logo that implies principles or vision pursued by the business, allowing consumers to recognize the type of business with the logo. However, it takes extensive amount of time and costs to associate a particular logo with a particular company.
Implication Logos: The vision and goal of the business are implicitly expressed. The attraction of customer's attention and empathetic expression are necessary as it delivers the brand information through symbolic image.
Abstract logos: this is a type of logo that expresses implicit meaning abstractly, and it can be used by implying a positive meaning.
Understanding of Service Design
Service design refers to the activities of improving the quality of experience in consumers and service providers and planning for all service-related factors such as human, infrastructure, communication, and materials [9]. This is an area that changes user's thoughts and behaviors and improves their experiences by applying design methods throughout the design and service delivery process. In addition, this design area creates new added value by developing new service model and incorporating service into manufacture using new design method, in which user-centric research approach is enhanced [10].
The followings are four different characteristics between service design and other areas of design. First, service design strongly emphasizes design research, especially identification of consumer's unmet needs. Unlike existing design project, it is characterized by using many human resources and high costs for research. Second, it undergoes the process of co-creation where service providers and users address issues and suggest solutions together. Co-creation is a process in which various stakeholders collaborate to define problems from their respective perspectives and to seek solutions from a new perspective. Third, the service as a whole is visualized and materialized. The ability to visualize is rather dramatically exercised because intangible product, such as service, is dealt with. Various methods such as storyboard using cartoons and illustrations, actors' roleplays, and videos with puppet shows are used to visually express the overall process of the service. This stage is the process of iterating with a prototype and refining the intangible services rather than pursuing high quality result. Finally, it deals with the 'experience' of stakeholders. Various methods are used to analyze the service users' and providers' experiences and unmet needs. In particular, the characteristic of service design is the analysis of the needs of various stakeholders, including service providers and internal workforce [11].
METHOD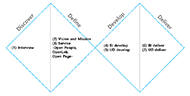 In this study, of service design methods, the British Design Council's double diamond method [12] was actively used. Double diamond method consists of a total of four steps: discover, define, develop, and delivery.
As shown in Figure1, this study investigated brand naming, brand operational value, major consumers, and services by conducting interview with three internal staffs during the discovery stage. In addition, interview in regard to brand design image such as what image you want the brand to have and what color would match with brand image was conducted. During define stage, the brand value, brand mission and services were defined based on the interviews.
During develop stage, a total of 14 drafts were created by selecting design and color for the derived services. Finally, during deliver stage, the final BI was selected and applied to develop many cases including business card, presentation template, and space application.
RESULT
Discover
The interview with three internal staffs was conducted to define the brand value of the assistive device open platform. A questionnaire consisting of 10 questions related to brand consultation and 13 questions related to brand design was created, and the responses were collected from each staff.
The major questions related to brand consultation included the reasons for naming the brand as assistive device open platform, values that you desire to show through this, major consumers, and services. The major answers in response to each question are as follows: reasons for brand naming included 'It means sharing developed appropriate technology assistive device with all and having production information accessible; for major values, 'contributing to improve the quality of life for people with disabilities and elderly by making assistive devices that are small but essential for living'; for major consumers, 'people with disabilities, elderly, guardians who need assistive devices and have ideas for it', 'makers and small-and medium-sized companies who want to develop assistive devices and research the demand for same', and 'therapists or doctors with many ideas'; and for major services and different characteristics, 'establishment of a makerspace to assistive devices for people with disabilities and elderly', 'infrastructure to facilitate cooperation with clinical experts', and 'infrastructure that can promote manufactured assistive devices nationwide'.
The major questions related to brand design included preferences for types of BI (e.g., logo-type, a combination of logo-type and symbols, abbreviated brand name), preference for color and image of logo, thoughts on which color matches with brand image when considering the image that color conveys, and preference for the color tone. In response to a question about BI type, all three responders selected 'a combination of logo-type and symbols' and preferred colorful and popular color and images. In addition, yellow that conveys happiness, entertainment, and hope and blue that conveys logic and trust were mentioned for matching color; they reported preference for vivid color rather than dark or pastel in regard to color tone.
Define
Based on the data collected from interviews with three staffs, the process of compiling and organizing the contents three times with a BI consultant was completed. Using the concept circle, major values, relevant keywords, and services were defined and organized. Through this, the major values, mission, and major services of the brand were finally defined.
Major values included empathy, space, connection, sharing, and coexistence. The mission was identified as followed: to create and operate assistive device research development platform that is accessible to everyone; to help solving the issues that elderly and people with disabilities may face in daily lives; and to create technology, knowledge, and human network necessary in promoting independence. Three major services to achieve the missions above were open people, open production room, and open page. Open people refers to human network that can help research and develop assistive devices. This includes all human resources related to the development and production of assistive devices such as people with disabilities, the elderly, guardians, developers, therapists, and policy advisors. Open production room is not limited to makerspace for the disabled and the elderly developed by the national rehabilitation center but refers to all spaces for research and development of assistive devices including regional assistive devices centre or makerspace. Open page is a communication channel where cases of developed assistive devices or foreign assistive devices can be shared and a service that allows consumers to share information about development and production of assistive device including human networks and space open for development.
BI was designed for derived major services such as open people, open production room, and open page beside the assistive device open platform. Considering that the use of appropriate technology allows for the development of assistive devices tailored to the. disabled and the elderly in various ways, the overall concept of the combination of shapes in various colors and forms was used to design a total of 14 drafts as shown in Figure 2.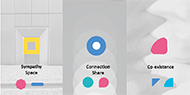 In the process of developing the drafts, images that could be associated with keywords such as empathy, space, connection, sharing, and coexistence, which are the main values derived from the interview, were derived, and shapes were derived from those images. As shown in Figure 3, the square was derived from door which means a passageway for connection to represent empathy and space, a spherical shape from the image of the connected circle to present connection and sharing, and triangular shape from the image holding hands together represents the keyword: coexistence. These derived shapes were used to develop a draft for BI,
Drafts were designed using the derived shapes and various colors. Yellow color (CMYK F9D537, RGB 3,13,89,0), which is a designated color of tactile paving for visually impaired people, was selected as the main color to allow people with poor eyesight to recognize the logo. In addition, yellow color is warm and conveys diversity.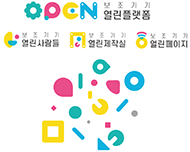 Of a total of 14 drafts, a final draft was selected through discussion among three internal researchers. During the discussion, the decision was made by taking a comprehensive consideration of the following four factors that BI must consider, which was introduced during the literature review: to establish a relationship between consumer and brand, provide a sensuous and diverse experiences, express the vision of the brand and to convey an emotional brand that can be creatively reminiscent.
BI of assistive device open platform consisted of shapes that provide implication for development and production. The completed BI is shown in Figure 4. To emphasize the meaning of 'open to all', shapes were used to write the word 'OPEN'. In addition, 'open people' was expressed by making a smile face with shapes and 'open page' was designed with emphasis on sharing.
The developed identity was applied to business card, paper, presentation template, as shown in Figure 5. The shapes that were used to design BI were re-assembled in different way as shown in Figure 4 to deliver the message of diversity. As shown in Figure 5, BI was also applied spatially. The entire space is called assistive device open platform and BI was applied after dividing the space in the following ways: open people for office space; open production room for production space; and open page for a room shared with posters.
CONCLUSIONS

In this study, BI was established by using service design method in order to encourage the disabled and the elderly to recognize the brand called assistive device open platform and to actively use its services. During the discover stage, the brand's direction and meaning were discussed with three internal researchers using the questionnaire. During the define stage, consultants selected three main values, missions, and major services (including open people, open production room, and open page). During the develop stage, a total of four types of BI (open platforms, open people, open production room, and open page) was developed to assist consumers in recognizing the major services. During this stage, 14 drafts were created by deriving shapes using images associated with keywords and various colors. During deliver stage, after selecting the final BI by comprehensively reviewing the four factors of BI that should be considered, it was applied to items that can be used to expand the identity such as business cards, presentation template, and spaces.
This study defined the identity of assistive device open platform for the disabled and the elderly and established a foundation to facilitate the platform by building a space where everyone can participate. A future plan is to establish a platform that can be actively used by more people including people with disabilities, elderly, and developers through designing and verifying specific operation plans and verifying.
REFERENCES
Sung yong Lee, et. Al., A Universal Design Method for Assistive Technology Makerspace that the people with disabilities and the elderly could access, AOCPRM, 2020
Agnes Jihae Kim, et. Al., OPEN LAB: A Study on the Service Design of an Assistive Technology Makerspace, Asian Spinal Cord Network International Conference 2020
https://terms.naver.com/entry.nhn?docId=3534392&cid=58540&categoryId=58540
https://terms.naver.com/entry.nhn?docId=3436504&cid=42346&categoryId=42346
https://terms.naver.com/entry.nhn?docId=279834&cid=42822&categoryId=42822
https://terms.naver.com/entry.nhn?docId=2275438&cid=42251&categoryId=51155
Un Han Cho, A Study for the Development of a Combined Brand Identity to Invigorate Primary Care Facilities (Local Clinics) in Seoul, Journal of Communication Design, vol.38, 21-31, 2012
Yeokyung Yoon et. al., Research on social enterprise brand identity development examples, focused on firefly sharing welfare foundation brand development, Journal of cultural product&design, vol. 57, 87-97, 2019
[9]https://ko.wikipedia.org/wiki/%EC%84%9C%EB%B9%84%EC%8A%A4_%EB%94%94%EC%9E%90%EC%9 D%B8
[10] Korea Institute of Design Promotion
[11]https://ko.wikipedia.org/wiki/%EC%84%9C%EB%B9%84%EC%8A%A4_%EB%94%94%EC%9E%90%EC%9 D%B8#%EA%B0%95%ED%99%94%EB%90%9C_%EB%94%94%EC%9E%90%EC%9D%B8%EB%A6%AC %EC%84%9C%EC%B9%98
[12] Double Diamond Model, Design Council, 2019
ACKNOWLEDGEMENT
This research was supported by the Assistive Technology R&D Project for People with Disabilities and the elderly funded by the Ministry of Health & Welfare, Republic of Korea (#HJ20C0002).